Today, dating is no longer limited to people you meet in person. More and more single folks are turning to online dating apps to find love, and although there are some great people out there looking for their life partner – there are others with ill intentions who not only steal your heart, but your money too.
What is a Romance Scam?
It typically starts with a friend request or DM from a complete stranger. Once that introduction is made, conversations start, friendship… or something more… is formed, and the next thing you know, you're in a romantic relationship with someone that you've met online. But it doesn't stop there. These cybercriminals use fake identities to gain the trust of their victim to emotionally manipulate them into sending them money.
"I got into an accident; can you help cover my medical bill?"
"I can't wait to see you! Can you help pay for my flight?
Sound familiar? These scammers will often fabricate complicated yet believable stories that result in you "helping" them financially.
Red Flags
With over 300 million people using dating apps worldwide, connecting with people online has never been easier. According to the U.S. Federal Trade Commission (FTC), people reported a record of $547 million lost to romance scams in 2021. That's up around 80% from FTC's 2020 reports.
Luckily, many of these romance scammers tend to use the same cheesy pickup lines and schemes, so they can be easy to recognize if you know how to spot the warning signs.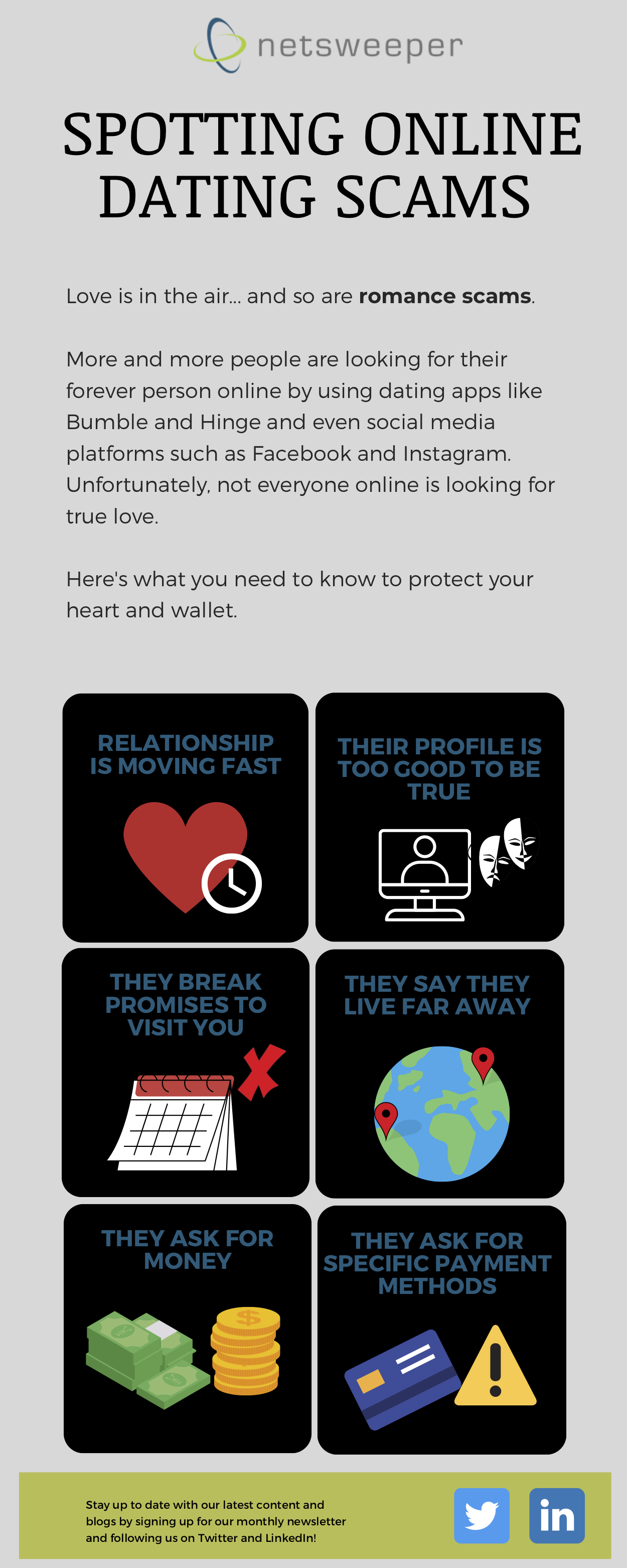 Reporting a Romance Scam
Once you've been scammed, it can be very difficult to recover your money. But, by reporting your case, you will be helping investigators catch these swindlers and help others from falling victim too:
Report the scammer to the dating platform you met them on
Notify your bank immediately if you have sent money to a scammer
Document your online relationship by taking screenshots of their profile, conversations, and any transactions that were made
Contact authorities
Report scams to the FTC and the FBI Internet Crime Complaint Center
Victims often times feel helpless and embarrassed, which prevents them from reporting the incident or seeking help. Remember, romance scammers are pro manipulators who take advantage of vulnerable people who are looking for love – you won't be the first or the last person to be taken advantage of in this way.
Sign up for our monthly newsletter and follow us on Twitter and LinkedIn to stay on top of our latest content! For more blog posts related to online scams, check these out: