Staying focused and on task has become increasingly difficult with consistent access to the online world through smartphones, tablets, and laptops. This is especially true in the classroom. A recent study published in the Canadian Journal for the Scholarship of Teaching and Learning revealed 49% of students said the use of technology for reasons not related to class use was distracting to them. Access to technology in schools can be a benefit to both teachers and students when used appropriately.  
Although devices can be a useful tool it has a time and a place in school, and during an exam is not one of those times. To keep students focused during an exam, restricting internet access may be a necessary solution to reduce the unwanted distractions they may cause. 
Why Use Internet Filtering During Exams
To prevent distractions students face at school with access to technology like mobile devices and computers.

 

To uphold a schools Examination Policies put into the place to prevent cheating so students can be evaluated on the merits of their own ideas and knowledge. 

 

Provide support to teachers and exam proctors who oversee students during their test, allowing them to focus on the students and any assistance they may need. 

 
How to Use Netsweeper Filtering During Exams 
Schools using the Netsweeper filtering platform can easily block internet access during specified times for exam periods using a Policy Event in the Policy Calendar. A Policy Event allows users to set more or less restrictive Internet filtering at various times of the day for a group of Clients.   
Here's how to easily use the Netsweeper filter to block internet access for distraction free exam time: 
In the

Policies

tab for a Group,

click

the

Create

button, this will

open

a 'Create' window

 

In the 'Create' window:

 

Select

a

Start Day

and

Start Time 

 

Select

a

Stop Day

and

Stop Time

 

Type

in a

Policy Name

for example 'Exam_Policy'

 

Apply

a colour

 

Click

Save

 

The Policy will take effect during the selected period and be visible in the Policies Calendar as the selected colour.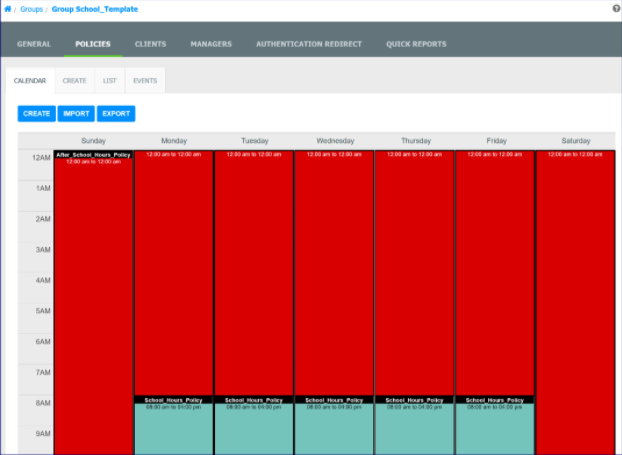 Students attempting to access the internet during the restricted time slot will receive a deny page, which can be customized to remind students it is exam time. Once the time slot ends for the exam period, it will return to your regular filtering policy – remember to remove before the following week if there will no longer be exams during the designated time slot. 
Netsweeper Internet Filtering for Distraction Free Exams
With all the potential disruptions students face, making exam time more focused and distraction free will allow them an environment where they can do their best work and set them up for success.  
Find out more about Netsweeper filtering solutions or request a demo