The internet is an incredible resource, but it can also be a dangerous place for children. This tech-savvy generations thrives on technology, regularly searching the web for content, games, and videos. Devices are now commonplace in the classroom, where rules and regulations are required for digital safety. Tools like content filters and online monitoring help educators keep their students safe from inappropriate or dangerous online content. But as we know, technology is not limited to school time, it's in our homes and accessible to our kids.  
A recent study revealed that nearly 55% of parents show concern over their children's superior ability to navigate the digital world. Despite their concern, over a third of those parents are educating themselves as much as they can about online safety and learning how to set Chrome SafeSearch is just one of those ways.  
Why Should Parents Want to Set Chrome SafeSearch
Technology can often be overwhelming for parents who are not familiar with it or see the ease at which their kids use their own devices. The web can provide kids with lots of fun and entertaining content that is age appropriate, but it can also be easy for them to come across website, images or videos that are questionable. Chrome's SafeSearch is an easy feature for parents to learn how to enable so they can help protect their kids from online dangers at home.  
What Does Chrome SafeSearch Block 
Chrome's SafeSearch feature is a fantastic way to make sure your children do not stumble come across adult or inappropriate content online. Once enabled, searches done through Chrome will filter your results to block adult content by default, including: 
Sexually explicit material

 

Pornography

 

Violence 

 

Gore

 
How to Set Chrome SafeSearch
If you are uncomfortable with the level of potentially explicit content that could be in your Google Search results, you can set Chrome to automatically filter these out. This will help make sure that any inappropriate or offensive content is not displayed when you search for something in Chrome whether on a desktop or mobile device.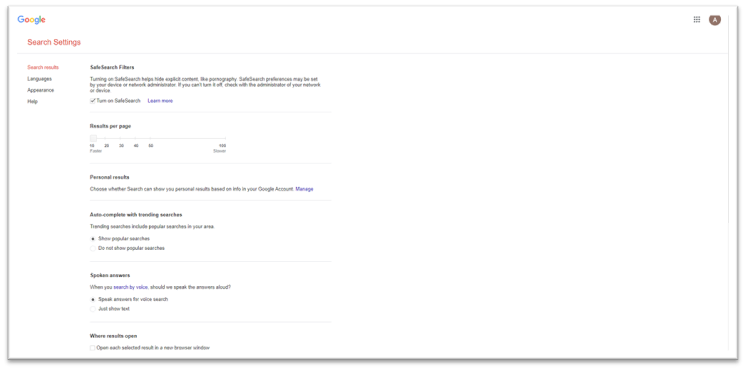 Set Chrome SafeSearch on a desktop:
Open your Chrome browser and log into your Google Account 

 

Go to the Google homepage

 

In the bottom right corner click

Settings

Click Search Settings from the pop-up
At the top of the page select Turn on SafeSearch
Scroll to the bottom and click the Save button
Set Chrome SafeSearch on a mobile device:
Open your mobile browser and go to SafeSearch Settings

 

To turn on SafeSearch, toggle on 

Explicit results filter

To turn off SafeSearch, toggle off 

Explicit results filter

 

When finished, click Back to return to the Google homepage

 
Chrome SafeSearch at Home and at School
Kids deserve to have a fun and safe online experience, whether they are at home or school. Parents do not need to feel overwhelmed with technology and worry about how to safeguard their kids while surfing the web. Chrome SafeSearch can easily be enabled to extend digital safety from the classroom into the living room with just a few simple steps.  
Check out some of our other blogs about how to create a safe online experience for our kids: