From printed school flyers to e-newsletters, methods of communication in the midst of a global pandemic has forever changed the way students, parents and educators interact with each other.   
If there is one good thing that has come from the COVID-19 pandemic, it's that parents have been heavily involved in their children's day-to-day learning. According to a recent survey done by Learning Heroes, they found that two-thirds of parents say they are more involved in their child's education today than ever before. Parenting in itself is a tough enough job, and to have to wake up to teacher emails, school assignments and class lessons – it's no wonder all moms and dads are breathing a huge sigh of relief now that their kids are back in school.  
Parent-Teacher Communication Strategies
The importance of parent involvement in academic outcomes has never been a question. Many studies have shown us that student achievement improves greatly when parents have an active role in their child's education.  
So how can continue to keep pandemic parents engaged while their kids' education now that they are back in classes?  
It's going to be tough. It isn't practical for many parents to take on this interactive role that they did the past school year. Juggling a household, remote work, childcare, and virtual schooling is nearly impossible to do and resulted in parental burnout.  
Strengthening communication amongst parents and teachers is key to keeping them engaged! Check out our infographic for successful two-way communication tips that will build parent participation below 👇👇👇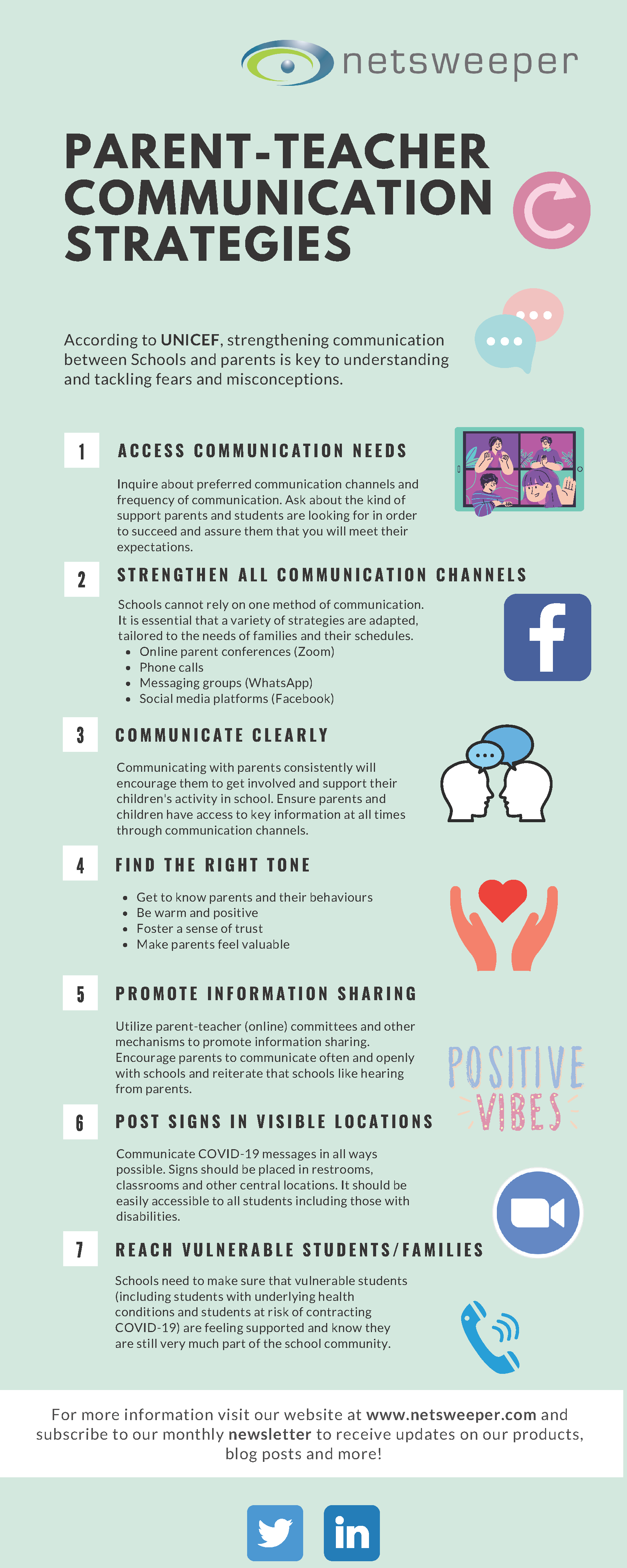 Empower Parents with Online Insights
Schools and educators need to continuously work towards discovering best practices to keep parents up-to-date and involved in their child's education. With devices being used at home and in schools, it is important that parents and teachers always communicate regularly and monitor school devices. 
With Netsweeper's onGuard solution, parents are able to use an AI-driven categorization engine to scan, mitigate and report potentially harmful activity. This system offers parents insights and access to their child's online experience while collecting data in real-time. 
If you found this information helpful, schedule a demo with one of our solution experts to see how we can help you and sign up for our newsletter to receive all our latest updates and blogs.  
Submitted by: Natasha Pande