More needs to be done to stop crimes against children online. The problem is growing, and it is a global issue. Technology has become more accessible and affordable, reaching across borders, affecting people of all ages and backgrounds. The internet was not designed with safety in mind and the associated issues are complex and constantly evolving. But the solution lies in working together – innovating solutions – to make online spaces safer for the most vulnerable.  
WeProtect Designing a Digital World that Protects Children 
WePROTECT was established in 2014 as a global alliance to protect children from online sexual exploitation and abuse. As one of the most urgent and defining issues of our generation, the initiative brings together government, industry, and law enforcement partners in over 100 countries. Together, members of the WeProtect alliance, collaborate on technology, solutions, prevention, and support for victims.  
Transparency Reports
The WeProtect Transparency Report is a commitment to the partnership to demonstrate how it operates and communicates, including through its open meeting. The publication of this transparent approach demonstrates an openness to be held accountable for meeting objectives. This report also informs donors of the results achieved through their support, allowing them to track progress against individual projects or programs over time, as well as summarizing key achievements across the whole program.  
Regulations and Laws to Protect Children from Online Harm
New legislations and laws are coming into effect around the world every day to protect children online. The Film and Publication Board (FPB) of South Africa has recently issued a legal notice requiring internet service providers to report any cases where their platforms have been used to distributed or host content that constitutes child pornography or incites violence. The FPB aims to limit the distribution of harmful online content or face heavy fine or prison time. This is just one of many regulations being set in motion, requiring companies to be more transparent and accountable about their steps to prevent access to harmful online material.  
Netsweeper Shares the Same Goal
As members of the WeProtect Alliance, we share the same goal: A digital world designed to protect children from sexual exploitation and abuse. Netsweeper provides companies with a tool to help create their own transparency report with our Online Child Protection Transparency Report Template. The report allows companies to raise awareness of the tangible measure they have deployed; show how they are meeting regulations and their approach to shielding young users on the internet from harmful content.  
Netsweeper's Transparency Report
With Netsweeper's Online Child Protection Transparency Report template, a monthly report will be generated and automatically delivered to the specified recipients. The report data gives you meaningful metrics on your detection and prevention of Child Sexual Exploitation and Abuse online. The monthly reports can be aggregated to create a full year's snapshot and used to publish your own Transparency Report that shows; your efforts to combat harmful online content, appraise your prevention techniques and determine your future efforts.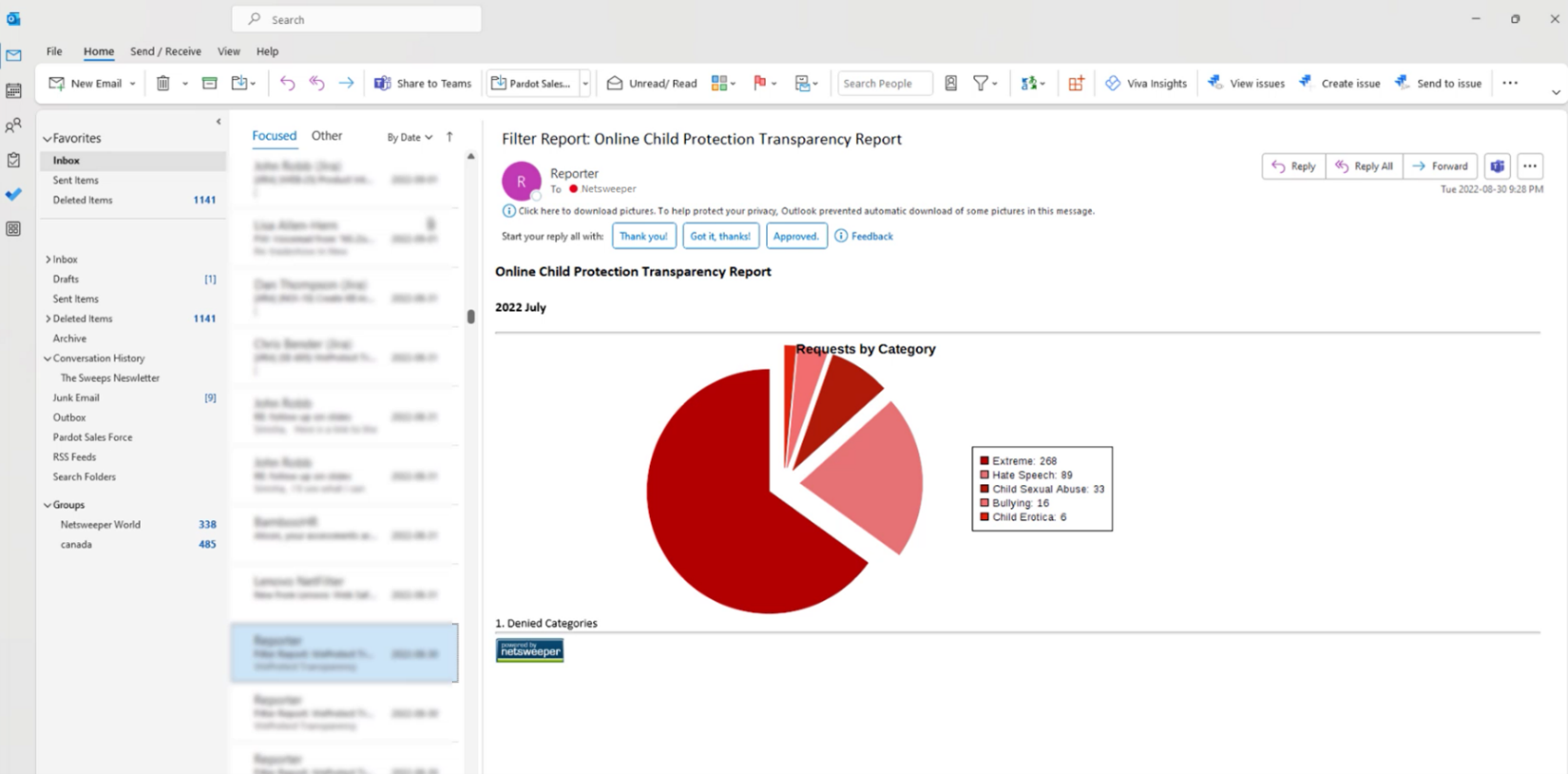 Working Together
The internet has become a global playground for crimes against children, so we must innovate to create solutions to protect those most vulnerable. With the right tools, together we can fight back against the growing threat, and protect children online. Creating a Transparency Report is a key part of the mission to promote a safe online experience for young internet users. WeProtect and Netsweeper are committed to sharing their progress, engaging with the community, and encouraging others to help design a digital world that protect children from sexual exploitation and abuse online.