Using YouTube in the Classroom
Devices in the classroom has become common with most school-age children being born and raised in the digital era. The integration of technology in education has provided teachers with new ways of engaging students in the learning process. This tech-savvy generation thrives on visual forms of technology, and platforms like YouTube allow teachers to tap into video content to support the development of engaging lesson plans.  
Video use in educational curriculums is not a trend that is likely to go away any time soon. 70% of teachers in the US alone say they use video in the classroom multiple times per week, with 90% of those videos being streamed directly from the web. While video has many benefits in the classroom, it also comes with risk, where the need for YouTube control flexibility becomes important.   
Downside of YouTube for Classroom Use
YouTube has thousands of videos uploaded every minute of every day. This consistent flow of content can make it challenging to not only find videos that are appropriate for the classroom, but YouTube also comes with elements that can be filled with inappropriate subject matter. In addition to potentially unacceptable video content, YouTube also has problematic features for teachers, like comments sections, video upload and video sharing options.  
While blocking YouTube completely may seem like the answer to prevent students from seeing inappropriate content, the benefits of using video as part of an educational curriculum is undeniable. Teacher's need to have options that allow them to tailor the YouTube experience to best suit their needs and meet online requirements.  
Netsweeper's YouTube Control Options
YouTube Add Video

 

YouTube All Comments

 

YouTube Video Upload

 

And 14 other options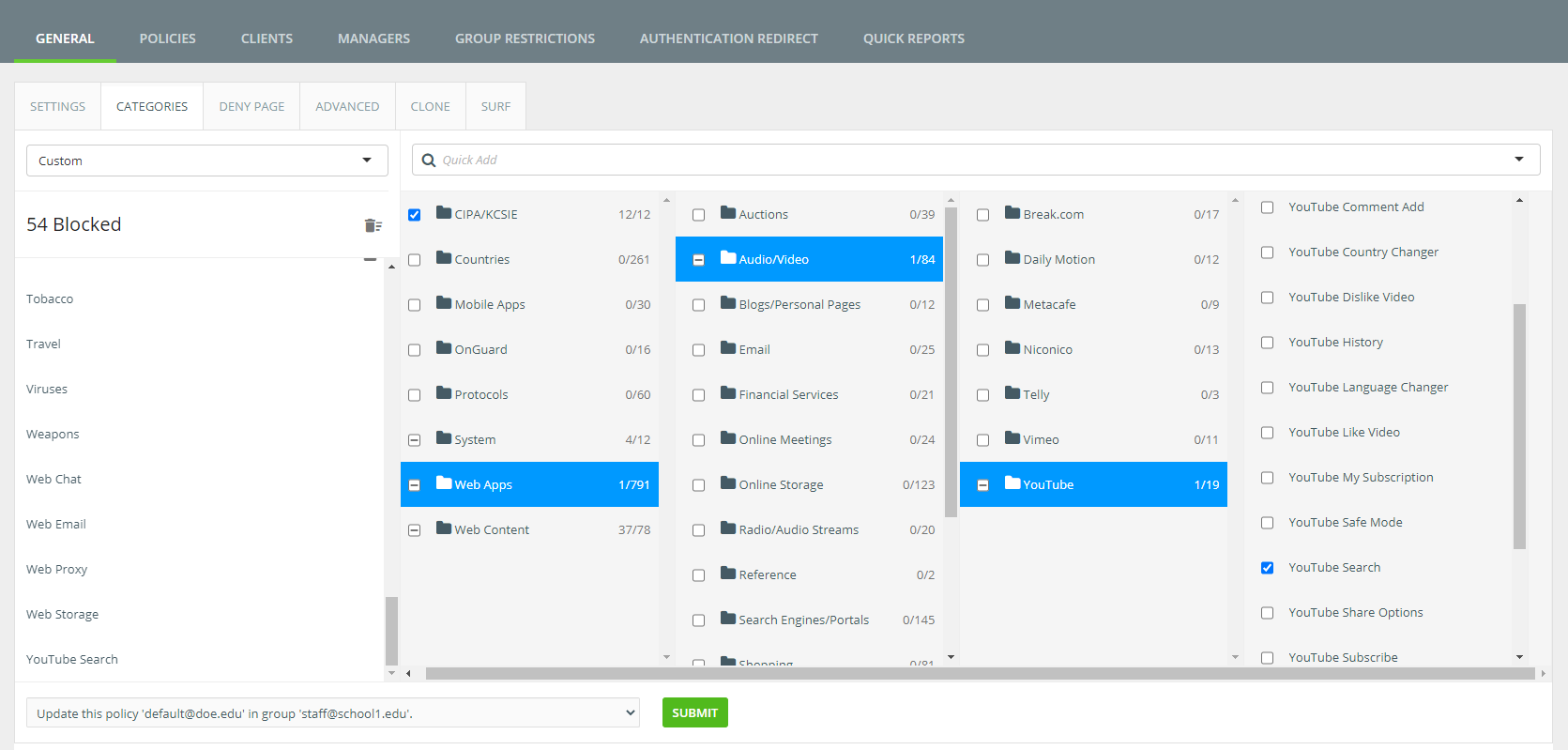 Shaping The User Experience with Netsweeper
Netsweeper provides educators with flexible YouTube control beyond a one size fits all approach. While teachers have the option to block the platform completely, they also have the ability to safely integrate YouTube video into lessons plans by selecting the level of control they need. 
For example, Safe Search can be enforced, which filters results to remove videos with mature content or age restrictions. The comment section can also be blocked, both the ability to view comments as well as to leave comments. Often teachers may find a video suitable for class but contains inappropriate remarks made by viewers that students should not see. Any combination of YouTube control options can be chosen within the Netsweeper WebAdmin categories to best suit the teacher, students, and curriculum.  
To Find Out More
Netsweeper gives educators the ability to shape their YouTube experience for their students beyond blocking the website completely. Granular controls mean teachers can get the best the video platform has to offer while preventing unsuitable content being seen by students. 
To find out more about how Netsweeper can help provide the best YouTube experience for teachers and educational institutions, request a demo from our solution experts!