As the holiday season quickly approaches, the global pandemic has already changed our traditional shopping habits. With an increase in spending activity, digital shoppers who are looking for nice deals this time of year should be wary of the rise in naughty scams who are looking to take advantage of jolly customers.  
As we eagerly wait for the upcoming holiday sales, it's not only businesses competing for the best blowouts and deals, but cybercriminals are also using this time of year to exploit consumers by going after their hard-earned money.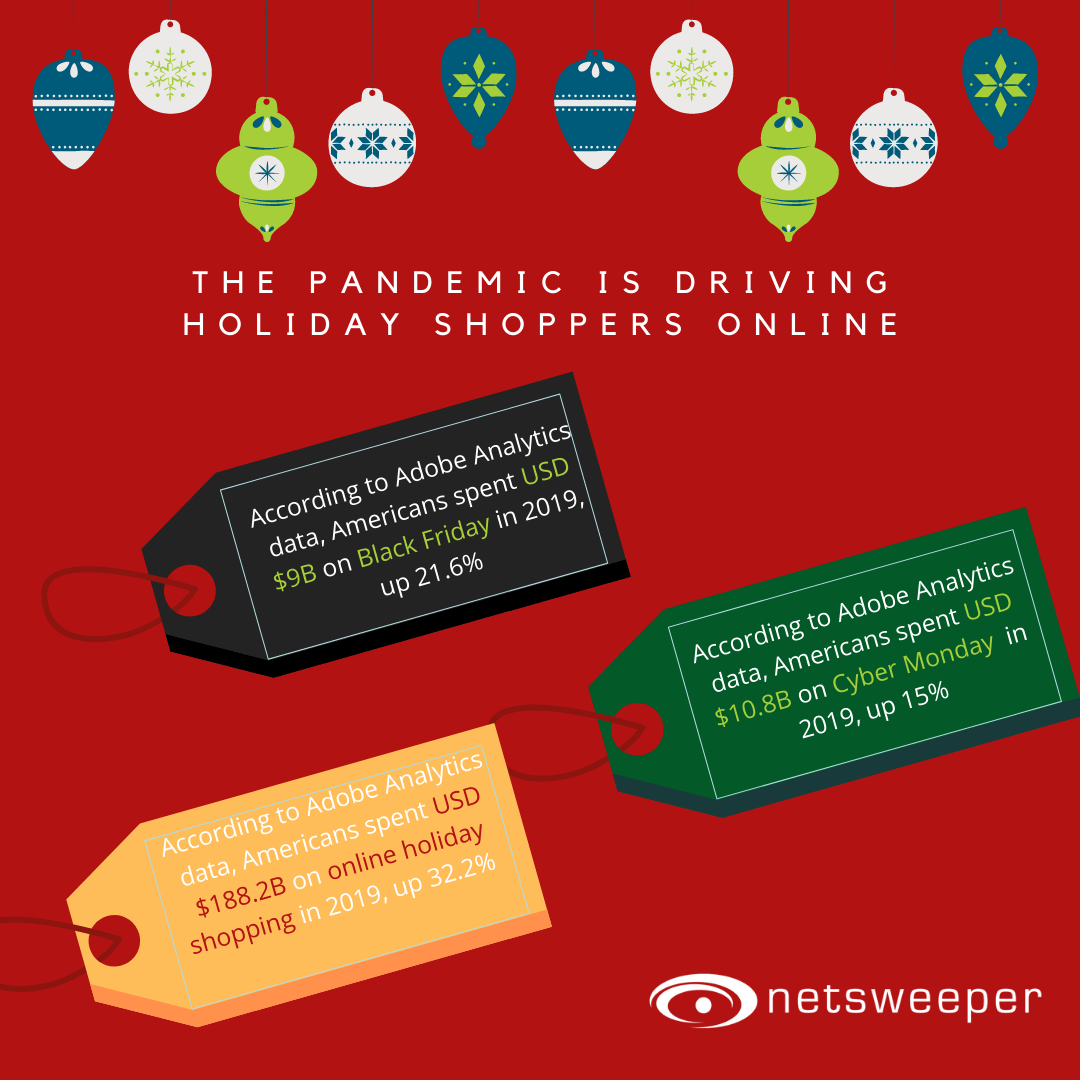 Common Scams During the Holidays
Scammers enjoy the holidays just as much as we do. Keep an eye out for these popular scams that are prevalent during the holiday season: 
Phishing Emails: In 2019, phishing scams and attacks 

increased by 400%

 over the first two weeks of November alone. With all the phishing emails related to the COVID-19 pandemic, now we must worry about holiday ones as well. With high volumes of email including shipping notices, festive promotion emails and order receipts, it can be difficult to not fall victim to these scams. Be extra careful when sharing personal information online and keep current with the latest phishing scams.  

 

Fake package delivery notice: Many people are using Amazon, eBay, Etsy and many other eCommerce websites to send gifts to friends and family. Scammers know that you may be receiving unexpected packages and will use this to their advantage. You may notice realistic-looking delivery failure notifications that imply that there is a problem with the delivery, requiring you to hand out personal information in order to receive it. Don't be fooled. Contact your local post office or get in touch with the delivery service to verify if this is a scam.

 

Gift card danger: According to research done by the 

National Retail Federation

, gift cards are the most popular gifts to give during the holiday season. Unfortunately, this is an easy way for scammers to sell expired or empty gift cards to trusting holiday shoppers who are looking to spend. Be cautious of deeply discounted cards from unreliable sites like Kijiji. Buy directly from the retailer where gift cards can be loaded right on the spot, this will decrease the chances of your card being tampered with.

 

Fake charities: Scammers use this as an opportunity to take advantage of your giving spirit. Emails and phone calls from charitable organizations that do not exist, will often contact you during this time of year asking for donations that will go to a good cause. Keep yourself safe by donating to trusted, well-known charities and verify the validity of a registered charity by using trusted websites like 

charitynavigator.org

, 

charityintelligence.ca

 and 

nasconet.org

.     

 
Looking for a solution that will mitigate risk of scams and fraud in a personal or professional setting? Book a demo with our solution experts to see how Netsweeper can help you. 
Submitted by: Natasha Pande